Processing with high carbon steel wire, through drawing and galvanizing
Standard wire strand structure:1×3,1×7,1×19,single wire from 0.40mm to 5.0mm ,total from 1.2mm-15.0mm
Galvanized wire rope structure:6*7, 7*7, 6*19, 7*19, 6*12+7FC, 6*37+FC, and so on.
Constructions: Consists of three or seven zinc coated steel wires, featuring tensile strength ranging from 1270 Mpa to 1570 Mpa.
Standard: YB/T5004-2001, ASTM475, ASTM498, etc.
Material: super carbon steel
Processing by drawing, hot-dipped galvanizing
Range: stay wire.Messenger wire.Earth wire and other.
Application Area:Overhead transmission line.Telecommunication cableelectric pole supporters.
Super in corrosion resistance
Firm coating layer
custom's size is available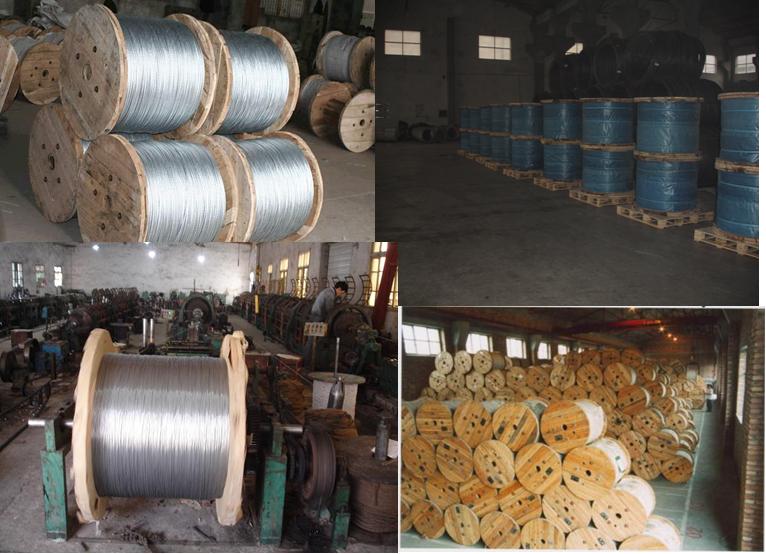 Galvanized wire strand decription
Nominal strand diameter(mm)
Nominal Wire diameter(mm)
Nominal tensile strength of Gal.steel wire Mpa(mm)
Weight of Zinc Coating g/m2Minimum
1270
1370
1470
1570
Breaking Strength of Strand KN≥
3.0
1.00
6.42
6.92
7.43
7.94
100
200
3.3
1.10
7.77
8.38
8.99
9.60
110
220
3.6
1.20
9.25
9.97
10.70
11.40
120
240
3.9
1.30
10.80
11.70
12.50
13.40
120
240
4.2
1.40
12.50
13.50
14.50
15.50
130
260
4.5
1.50
14.40
15.50
16.70
17.80
140
280
4.8
1.60
16.40
17.70
19.00
20.30
150
300
5.1
1.70
18.50
20.00
21.40
22.90
150
300
5.4
1.80
20.80
22.40
24.00
25.70
160
320
6.0
2.00
25.60
27.70
29.70
31.70
170
340
6.6
2.20
31.00
33.50
35.90
38.40
180
360
7.2
2.40
37.00
39.90
42.80
45.70
200
400
7.8
2.60
43.40
46.80
50.20
53.60
220
440
8.4
2.80
50.30
54.30
58.20
62.20
240
480
9.0
3.00
57.80
62.30
66.90
71.40
250
500
9.6
3.20
65.70
70.90
76.10
81.30
260
520
10.5
3.50
78.60
84.80
91.00
97.20
270
540
11.4
3.80
92.70
100.00
107.00
114.00
270
540
12.0
4.00
102.00
110.00
118.00
127.00
280
560
We can produce the products according with clients requests